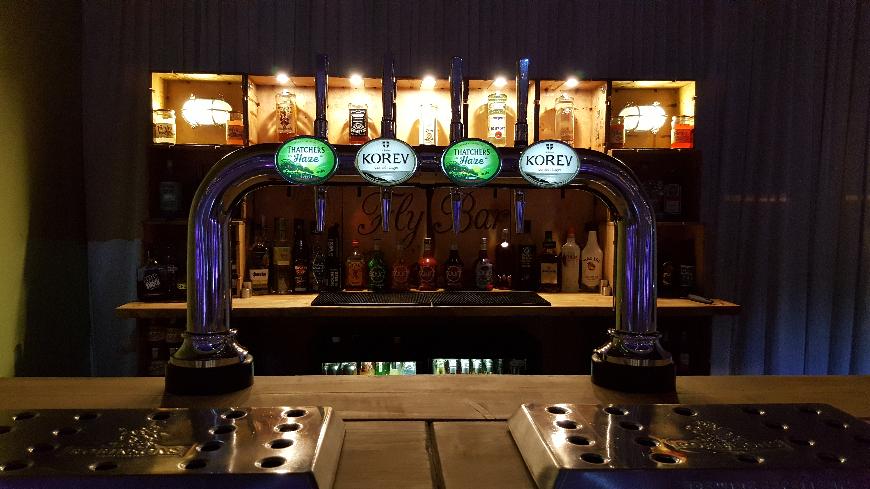 Our bars are finished in brushed steel with attractive LED downlighting to compliment your colour scheme. They can be formed in one thirteen foot long straight bar or an L-shape using a corner bar section.
We also stock white and black bars along with wood finish. We can tailor a bar specifically for your theme, please ask for further details.
Our newest bar addition is our rustic themed mobile bar trailer. Perfect for marquee and outdoor themed weddings. Equally at home at fun days, fetes, beer and food festivals and Christmas markets.

Our back bars are fitted with an optics station for the classic serving of spirits. We also have a good selection of premium and specialist standing spirits to choose from.

We use professional grade draught cooling and operating systems, all contained within purpose built wheeled flight cases. Our cask ale* is also temperature maintained to arrive at your glass at the optimum temperature.
*available on request

Our commercial fridges stock a selection of popular bottled and canned beverages and we are happy to accommodate your preferences if you have a favourite tipple.
We supply all ice, lemon & lime slices and bar station condiments (straws/stirrers/serviettes etc)

Our measurements all conform to government standards and are served from stamped bar jiggers.
We have secured facilities for taking both deposit payments and debit and credit card payments on the night for drinks purchases.

Our wireless and contactless commercial card machine works over the cellular network and can roam all UK providers so chances are your venue is covered. We also have WIFI enabled card payment facilities.